Opposition candidate Mir-Hossein Mousavi appears to be backing away from the protests on the streets of Tehran today after the nation's National Security Council informed him that his repeated demands to throw out this month's presidential election were "illogical and unethical."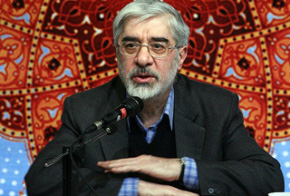 Mir-Hossein Mousavi
The protests have quieted in recent days, at least compared to the violent clashes seen in the first week after the vote. Ayatollah Ahmad Khatami has called on the government to level harsh punishments against those arrested for their roles in the riots.
At Friday prayers at Tehran University, Khatami said the rioters were defying God's will and that some members of their leadership were "worthy of execution" as enemies of the Islamic Republic. Though the Iranian government has detained dozens in connection with the violence, it does not appear to have charged any of them with serious crimes yet.
Mousavi and fellow opposition candidate Mehdi Karroubi continue to reject the vote as fraudulent, while conservative opponent Mohsen Rezaei has dropped his own complaints following a meeting with the Guardian Council, which is empowered to investigate the election.