Despite two massive attacks in the past five days (killing over 150 civilians between them and leaving nearly 400 others wounded), the Pentagon dismissed concerns about violence in Iraq today, with spokesman Geoff Morrell declaring "the overall security climate is a good one."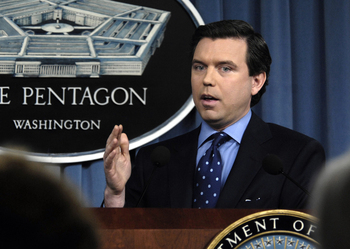 At least 75 civilians were reported killed today in the bombing of a market in Baghdad's Sadr City, just days after an attack on a mosque in Kirkuk killed 80 others. Both attacks targeted Shi'ites, a common strategy by Sunni insurgents in recent months.
US officials were similarly dismissive after a surge in violence in March was followed by an April which was the deadliest month in over a year. And while the month of May was comparatively quiet, the high profile attacks appear to be back in force, and June may wind up rivaling April in sheer numbers.
Morrell attributed the rise in violence to the Status of Forces Agreement, which requires US troops to leave Iraqi cities by the end of the month. He predicted that in the coming weeks we would see an even further upsurge in violence, though he dismissed the importance of this. He likewise added, despite several claims from high ranking officials that the US would absolutely respect the deadline, that troops would remain in cities past June 30.