Colonel John Spiszer, the US commander for troops in northeastern Afghanistan, today praised the Pakistani military's offensive against the Swat Valley, claiming it was 'sapping money and weapons' from the conflict in Afghanistan.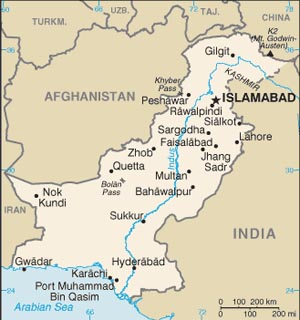 "I think there's a definite impact, and I think it almost can't be overstated," Col. Spiszer claimed. He also said Taliban activity has declined since the Pakistani military launched the offensive, saying the weaponry and money being used there.
Exactly how this would be happening is unclear, as the Pakistani government is fighting the Tehreek-e Taliban Pakistan (TTP) in the Swat Valley, not the Taliban that were the former Afghan government. While the groups both have the word "Taliban" in their name (Pashto for "students") that seems to be about all they have in common. Few if any of the TTP in Swat have been reported to be foreigners, and most appear to be tribesmen from the immediate area.
What's more, as the Swat Valley operation was reaching its zenith earlier this month, General David Petraeus was reporting that violence in Afghanistan had likewise reached an "all time high," and that the situation was, and still is, deteriorating rapidly. Nothing from the higher ups in the military has suggested the trend in Afghanistan has turned positive, let alone that it coincided with the Pakistani military driving millions of Swati civilians into refugee camps. Quite the contrary, every indication is that the situation has gone from bad to worse.