At a joint press conference with his Somali counterpart, Kenyan Prime Minister Raila Odinga suggested that the nation was in the process of deciding on whether or not to intervene militarily in an attempt to prop up the floundering Somali government. Odinga said an announcement was expected "soon."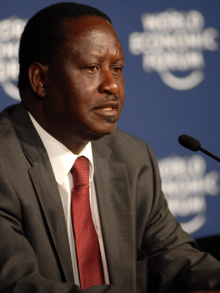 On Saturday Somalia's Parliament passed a resolution calling for international forces to invade the nation immediately to defend it from the growing insurgency. The resolution in particular called for Kenya, Ethiopia and Djibouti to invade within 24 hours.
A self-declared body that was founding in Kenya, Somalia's government has largest existed at the privilege of foreign powers willing to back up its claims to legitimacy. Its rule was largely made official by a US-backed Ethiopian invasion, and its control has waned since the force left.
Somalia's President today declared a state of emergency in the nation, as the African Union backed the call for foreign intervention. AU troops are already in the nation, but their effectiveness has been limited.