A suicide bomber has reportedly attacked the mausoleum of former Iranian Supreme Leader Ayatollah Khomeini, killing two and injuring at least eight others. Suicide attacks are virtually unheard of in Iran.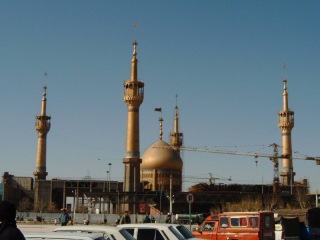 Today's pro-Mousavi demonstrators were out in force once again as well, clashing with police and chanting "death to the dictator." The clashes appear to have been, as feared, on a much larger scale than in previous days, though the exact number of injured will likely not be available for some time, given the tight restrictions placed on foreign journalists.
The Guardian Council also held its key meeting, to which it had invited the three opposition candidates in last Friday's contested election. Only one, Mohsen Razaei, actually attended the meeting. The council said it intends to randomly recount fully 10% of the nearly 40 million ballots cast in the election in the presence of representatives of each candidate.
Though this would likely give some idea of the veracity of the claims of massive poll rigging, it also falls well short of the demands of Mousavi supporters, as well as fellow reformist candidate Mehdi Karroubi, to annul the entire election and schedule a new one. As the ruling clergy grows impatient with the enduring protests, it is likely the best offer they'll see, however.