Speaking in Tehran today, Iran's Supreme Leader Ayatollah Ali Khamenei called for an end to the mass protests the nation has seen for the past week, blaming the US and Britain for stirring up unrest. He insisted "It must be determined at the ballot box what the people want and what they don't want, not in the streets."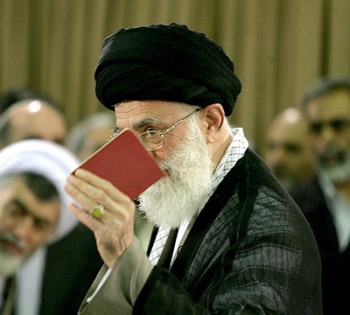 Khamenei upheld last week's vote, which the Interior Ministry declared was a victory for incumbent President Mahmoud Ahmadinejad, and though he left open the possibility of legal challenges to the results he seemed to rule out a new vote.
Supporters of opposition leader Mir-Hossein Mousavi have been rallying in the streets for a week now, and Mousavi has repeatedly accused the government of rigging the election in Ahmadinejad's favor. Mousavi has claimed he actually won by a wide margin.
Amid the accusations, Khamenei ordered the powerful Guardian Council to investigate the election, and the group has invited the opposition candidates to attend a special meeting tomorrow to discuss the what it has found so far in its examination. The council has offered a partial recount but has likewise refused to throw out the election entirely.