A suicide car bombing by the al-Shahaab insurgency hit a hotel in the central Somali town of Baladwayne, killing National Security Minister Omar Hashi Aden and at least 30 civilians. Al-Shahaab took credit for the attack shortly thereafter, and spokesman Sheikh Ali Mohamud Rage touted the death of "the so-called security minister."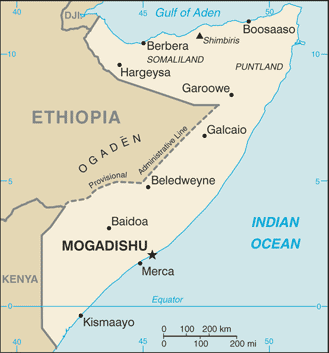 Minister Aden had been directing government forces in combating the insurgents for control over towns in central Somalia, where the towns have been regularly changing hands between the two sides over the past several months.
Growing violence and indiscriminate attacks against civilians have forced enormous numbers of civilians from their homes. The United Nations has expressed concerns over what it calls a "critical humanitarian situation" in the nation.
One of the most enduring battlegrounds is the capital city of Mogadishu, where at least 17 people were reported killed in overnight clashes. Over 100 wounded people, including women and children, were also reported in the clashes.