The Iranian government has today delivered an official complaint to the United States for what it called "intolerable" meddling into its internal affairs for its comments since Friday's controversial presidential election. The State Department has acknowledged receiving the complaint, but insisted that it was not meddling in Iran's internal affairs.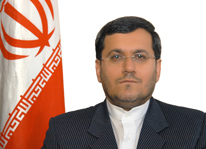 The Iranian Foreign Ministry has also reportedly summoned ambassadors from Britain, France and the Czech Republic to complain about their official comments since the election. A spokesman for Foreign Minister Hassan Qashqavi noted that it was "amusing how they prohibit unauthorized mass gatherings in their own countries, but support them elsewhere."
President Obama has said he is "deeply troubled" by the violence since the election, but stopped short of completely denouncing the vote, saying it was "up to Iranians to make decisions about who Iran's leaders will be" and that the US would respect the nation's sovereignty.
Since the vote, protesters supporting Mir-Hossein Mousavi have taken to the streets across the nation in force, and considerable violence has been reported. The state media has acknowledged at least eight deaths, though details have been unclear given the nation's harsh restrictions on foreign media.