A US drone struck three vehicles in Pakistan's South Waziristan Agency today, killing at least five people. It was unclear who was slain in the attack. It was the first US drone strike into Pakistan in nearly a month.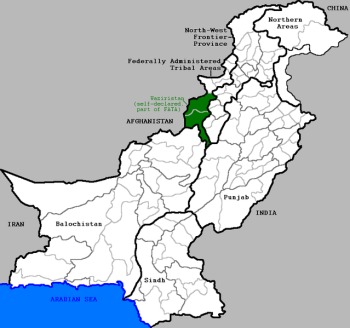 Last month US officials announced a "limited" partnership with the Pakistani military on the drone attacks, which have earned public criticism from the Pakistani civilian government for stirring resentment in the tribal areas. Though the US later disputed the details of the program, it was reported to give Pakistani military officers significant control over which targets to attack.
The attack also comes just days after Pentagon officials praised the Pakistani government for preparing to launch a massive military offensive against South Waziristan. Rumors of the offensive have endured for a month now, and roughly 90 percent of the agency's tribesmen are reported to have fled to towns in the neighboring North-West Frontier Province.
The planned offensive has also sparked numerous gunbattles between the growing military forces present in the area and militants loyal to the Tehreek-e Taliban Pakistan (TTP), whose leader Baitullah Mehsud is based in South Waziristan.