As Friday's election gave way to a weekend of riots in the capital city of Tehran and accusations that the Interior Ministry rigged the outcome in favor of President Mahmoud Ahmadinejad, multiple foreign media outlets are reporting efforts by the Iranian government to control the media reports coming out of the nation.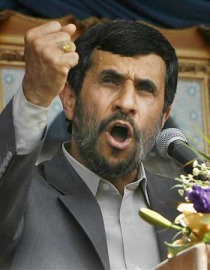 Al-Arabiya television has reportedly been forbidden from working in the capital for a week, while Nederland 2 has had its journalist and cameraman ordered to leave the country. The BBC is also claiming that the government is responsible for jamming which has caused intermittant service disruptions of its Farsi-language service.
The primary cell phone network in Tehran has also been cut off since Saturday evening, while the government is apparently blocking several popular websites, including Facebook and YouTube, likely also part of an effort to prevent unapproved reports from coming out of the nation.
Former Prime Minister Mir-Hossein Mousavi is seeking to have the election results overturned, amid reports that he has been placed under house arrest for calling his supporters to publicly contest the outcome. Ahmadinejad has rejected allegations of election fraud, and likened the furore to the aftermath of a soccer match.