Facing record voter turnout that Interior Minister Sadeq Mahsouli said would be above 70 percent, Iran has ordered polling stations to remain open to cope with the crowds. The enormous turnout is seen as favorable for former Prime Minister Mir-Hossein Mousavi, who previous polls showed trailing the incumbent President Mahmoud Ahmadinejad leading up to the vote.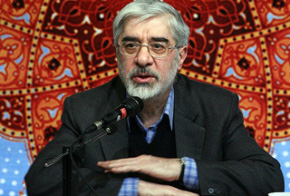 The vote is seen by many as "a referendum on Ahmadinejad," as the nation struggles with high inflation and record unemployment during the economic downturn. Though with Ahmadinejad retaining support in rural areas and among the nation's poor, it seems unlikely for today's vote to decide if he is to become the first Iranian president to lose a re-election bid for a second term.
In addition to Ahmadinejad and Mousavi two other noteworthy candidates, former parliamentary speaker Mehdi Karroubi and economist Mohsen Razaei, are contesting the vote. Under Iranian law the winner of the vote must obtain at least 50% of the votes, otherwise the election will be decided in a runoff to be held next Friday, June 19.
The three week presidential campaign saw the candidates hurling condemnations at one another, with former President Akbar Rafsanjani, a supporter of Mousavi, going so far as to issue an open letter to Ayatollah Khamenei demanding that he act against Ahmadinejad for his conduct in the debates. Ahmadinejad, for his part, compared his rivals to Hitler and threatened to arrest them for violating a law against insulting high ranking political officials.