Iraqi Prime Minister Nouri al-Maliki today warned that he expected violence in the nation would increase ahead of the US troops leaving Iraqi cities, which is supposed to happen by the end of this month, because they want "to say that Iraqi security services are incapable and a failure."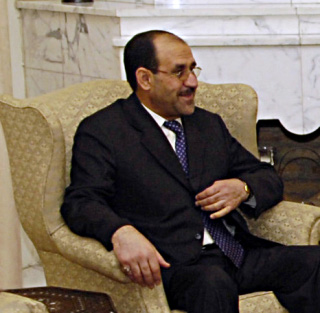 Iraqi Prime Minister Nouri al-Maliki
The comments come as the Iraqi Interior Ministry claims that 500,000 police are "ready and eager to assume full control over much of Iraq's security." It also came just one day after the bloody market bombing in the tiny southern town of Bathaa, which killed at least 35 and wounded dozens of others.
Maliki touched on the Bathaa bombing, which he called a "political message." The message was not lost of the survivors of the attack who stoned the local police, who they blamed for lax security. The town's chief of police was also dismissed by the provincial governor over the attack.
Violence in Iraq has been on the rise in recent months, though US officials have downplayed the attacks as not significant to the military mission. Still, the growing number of attacks on Shi'ite targets seem designed to increase sectarian tensions, and appear to have been quite successful in that regard.