In a statement released today, the US army said it was still holding 11,057 people in detention in three camps in Iraq, and has insisted that all of them will eventually either be freed or turned over to the Iraqi government, as is required by the Status of Forces Agreement (SOFA).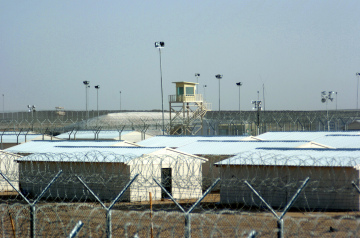 US fulfillment of the requirement has been continuing at a snail's pace. Over the past three months, the detainee population has dropped by less than 3,000, from 13,832. The military had previously touted that they were releasing an average of 50 a day, but that number has dropped to more like 30 a day in recent months.
At the current pace, the US will require just over a year to dispose of the remainder of the detainees, roughly the same time the Obama Administration intends to announce the official withdrawal of all combat forces from the nation. Of course it should be noted that US forces will continue combat operations past that date, but they will no longer be called combat forces.
The US currently operates three prison camps in Iraq: Camp Cropper and Camp Taji in Baghdad, as well as Camp Bucca in the nation's south. The US intends to return Camp Bucca to Iraqi government control once the detainee population drops below 8,000 which will likely be late in the fall.