Last updated 6/10 6:30 PM EST
Peshawar's only luxuty hotel, the Pearl Continental Hotel, was attacked by a suicide attack in an explosives-laden vehicle today. The attack serious damaged much of the hotel, killed at least 18 people and injured 75 others.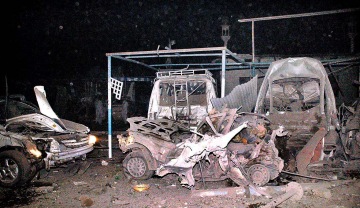 Aftermath of the hotel bombing
The hotel was a popular destination for foreigners in Pakistan's restive North-West Frontier Province (NWFP), though reportedly the United States government was in talks to buy the five star hotel and convert it into the city's American consulate and to be used as housing for US officials in the city.
Peshawar, situated along the Khyber Pass, is a key stop-off for NATO supply vehicles delivered to international forces in Afghanistan. The city's supply depots have been repeatedly hit by militants, destroying vehicles and imperiling the route through which much of NATO's supplies are transferred.
So far no group has taken credit for the attack, and it is unclear if the attack was retaliation for US air strikes into the nation, or for the massive Pakistani military offensive into the nearby Swat Valley, or one of the seemingly countless other axes the militants have to grind.