According to a local senator, 90 percent of the tribesmen in South Waziristan Agency have now fled to settled districts, fearing that the upcoming military offensive will be as devastating as the one going on in the Swat Valley.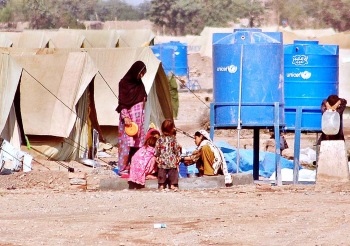 Civilians have been fleeing for weeks now, mainly staying with relatives in the North-West Frontier Province (NWFP). The NWFP is already dealing with millions of displaced Swatis in the north, and is now faced with a growing number of Waziri tribesmen in the west.
But while the national government has been pouring money into the crowded IDP camps around Swat in recent days, officials say they have made no provision for the fleeing tribesmen. Though some clashes have already happened in North and South Waziristan, the military has not officially announced the beginning of the war there.
President Asif Ali Zardari has promised to see the war being fought against the Tehreek-e Taliban Pakistan (TTP) in Swat expand across the tribal areas, with South Waziristan seen as a likely second target. TTP leader Baitullah Mehsud is based in South Waziristan, and the region has long been outside of the control of the national government.