At least 56 fighters have been reported killed today in the central Somali town of Wabho, as Islamists from the al-Shabaab faction vie for control over the town with the pro-government Islamist factions. An allied faction of the insurgency claimed to have seized Wabho earlier in the day, and after heavy mortar fire the pro-government faction claimed to have recaptured the town by the end of the day.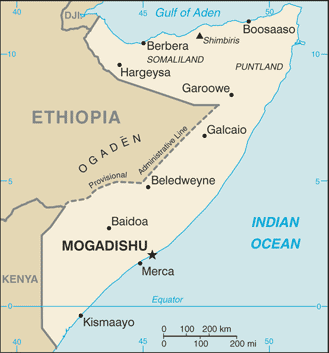 Wabho is no stranger to conflict, and has changed hands numerous times over the past few months. The central Somali towns, and those linking them to the capital of Mogadishu, have been hotly contested by both factions, as the government and its allies struggle to maintain some semblance of control.
Thousands of civilians have been forced to flee Mogadishu as well, as gunbattles flare up on a regular basis. The government remains, as ever, on the brink of collapse.
Al-Shabaab has been contesting the authority of the self-proclaimed government since a US-backed Ethiopian invasion installed it in power. The Islamists backing the government are from the Islamic Courts Union, whose founder is now the nation's president.