Pakistani security forces today arrested Tehreek-e Nifaz-e Shariat-e Muhammadi (TNSM) founder and leader Sufi Muhammad along with three of his aides, in the clerics home district of Lower Dir. He was flown to Peshawar by military helicopter, where he is now being held.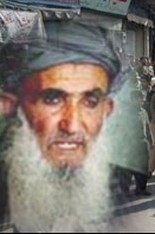 The reason for Muhammad's arrest was unclear, and government officials did not provide details of what laws the cleric had broken. One unnamed local official claims that is was linked to portions of the TNSM remaining in contact with the Tehreek-e Taliban Pakistan (TTP) during the military offensive in the Swat Valley.
Muhammad was instrumental in brokering the Swat Valley peace deal earlier this year, and attempted to negotiate a truce in the Buner District shortly before the military offensive. Considering the TNSM's influence in the region, the lack of response from the group as the region has been virtually destroyed by a military offensive has been nothing short of remarkable.
Still, in the end it seems the group's neutrality was insufficient to keep it off the government's radar. It remains to be seen however if Muhammad's capture was a function of anything the group did, or simply the next escalation against influential religious groups in the nation's northern regions.