Pakistani Army spokesman Major General Athar Abbas says that at 5 AM Tuesday morning, the army launched an operation in which they successfully recovered "all the cadets except one" who had been captured Monday.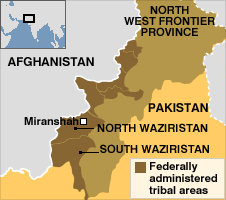 The militants, described by officials as Taliban, ambushed some 30 buses carrying students and staff from Razmak Cadet College in North Waziristan Agency on Monday. Armed with rocket launchers and grenades, the group managed to capture hundreds of the passengers.
No group had taken credit for the raid, and the press conference did not clarify exactly which group the militants belonged to. Speculation was that the ambush was in retaliation for the military offensive in the Swat Valley.
Also at issue is a growing military build-up in South Waziristan. Civilians have been fleeing the area in anticipation of an offensive there, though it is unclear exactly when it will begin.