Though the Israeli government insists it still intends to reach an "understanding" with the United States, spokesman Mark Regev insisted today that "normal life" would continue in the West Bank settlements, including some level of new construction.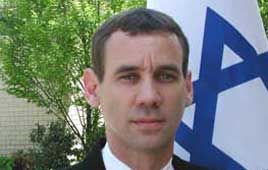 The comment is seen as an implied rejection of yesterday's comments by Secretary of State Hillary Clinton, who said that the administration made it "very clear" they wanted Israel to halt all settlement expansion, with no exceptions.
The two sides have been clashing publicly in recent days about the settlement expansions, as President Obama presses the Netanyahu government to accept a plan for Palestinian statehood. The Israeli government says the issue of the settlements should be determined during negotiations with the Palestinians.
Earlier this week, the Netanyahu government offered what it called a "compromise" to the US, in which it would dismantle a handful of tiny, illegal outposts in return for an end to US criticism of the massive settlements and their continued expansion. As Netanyahu made it clear today that the illegal outposts would continue to be shut down at any rate, the offer to the US is giving essentially nothing in return for an end to criticism.
Last 5 posts by Jason Ditz