Last updated 5/27/09 8:35 PM EST
A suicide car bomb was detonated today in the city of Lahore, destroying a police building and seriously damaging an office of the powerful Interservices Intelligence (ISI) agency. At least 30 people were killed in the attack and hospitals say roughly 300 wounded are being tended to.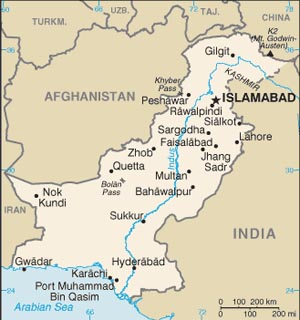 Roughly 100 kg of explosives were said to have been used in the attack, which officials say was intended to target the police building. 15 vehicles were destroyed in the blast and people are reportedly still trapped under the rubble, with rescue workers and bystanders scrambling to dig them out.
Lahore police were also targeted in March, when the Tehreek-e Taliban Pakistan captured a police training center, sparking an eight hour siege. A group calling itself the Tehreek-e Taliban Punjab, likely a faction of the Tehreek-e Taliban Pakistan (TTP), has claimed credit for the blast.
Pakistan's Interior Minister Rehman Malik speculated that the blast could be retaliation for the ongoing military offensive against the TTP in the Swat Valley, which has displaced 2.3 million civilians from their homes and left hundreds of thousands more trapped.