The Somali government, as ever on the brink of collapse, today launched a major offensive in the capital city of Mogadishu, sparking gunbattles across the city and heavily shelling one of the city's busiest roads. At least 45 people are said to have been killed in the attacks, 28 of them civilians, and well over a hundred wounded.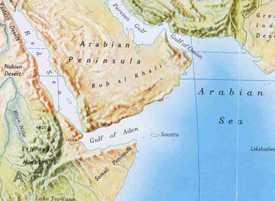 It was the first major violence in the Somali capital since early last week, when a three day series of violence between government forces and the al-Shabaab led insurgency killed 113 civilians. Today's fighting too seemed to be taking a much heavier toll of civilians than fighters, with reports of a government shell hitting a busload of civilians attempting to flee the violence.
The results of the fighting were unclear, at best. The government claimed to have taken the rebel-controlled areas of the city, but the insurgents appeared to remain in place and said they had successuflly repelled the incursions.
The Western-backed governcment of Somalia has been in the nation since 2005, though it has only really held significant influence in the nation since mid-2006, when the Ethiopian military invaded the nation with US support and attempted to prop the government up. Ethiopia declared mission accomplished in December of 2008, and since then the government has been perceived to be on borrowed time.