Reports coming out of Israel today detail the so-called Obama-Abdullah plan, an initiative for Palestinian statehood created by President Obama and Jordan's King Abdullah II. The hugely ambitious plan aims for an "independent, democratic and contiguous Palestinian state," which would not have a military of its own and would be forbidden from entering into military pacts with other nations "for Israel's security."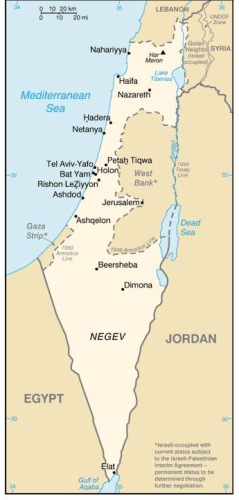 The Palestinan state would have East Jerusalem as its capital, and the US would arrange for Israel and the Palestinians to swap territory to settle on the borders. Jerusalem's old city would be an international zone. Palestinians would also be required to give up any claim to a right of return, and western states would give some measure of compensation to the massive numbers of Palestinian refugees living overseas.
The demand that Palestine have no active military while living next to a heavily armed nation with which it is on traditionally bad terms is likely to be difficult issue to reconcile. With Israel having ostensibly withdrawn from Gaza while regularly attacking it, the question is bound to be asked: will the new state remain Israeli occupied territory in everything but name?
The ability to come up with a contiguous Palestine seems even more difficult. There have been advocates of land swaps in the past – notably current Israeli Foreign Minister Avigdor Lieberman's Yisrael Beiteinu party, but the amount of territory that would have to be exchanged to link Gaza and the West Bank would be enormous, and doubtlessly controversial.