As Pakistan's military continued with its artillery barrage against the Swat Valley strongholds of the Tehreek-e Taliban Pakistan (TTP), North-West Frontier Province Information Minister Ifthikar Hussain said today that the number of registered internally displaced persons (IDPs) from the Swat Valley and the surrounding portion of the Malakand region has risen to over one million.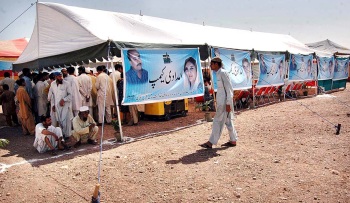 The bad news doesn't stop there. Another 500,000 IDPs are waiting to be formally registered. On top of that, another million civilians are trapped inside the Swat Valley because of the military's curfew. Minister Hussain tried to tout the military's success in reclaiming parts of the tiny Buner district, a small consolation for the millions of lives ruined by the offensive.
It has also sparked a warning from members of the opposition Pakistani Muslim League-Nawaz (PML-N), which had initially supported the offensive and had been talking about joining a unity government. MP Khawalja Saad Rafiq blamed the government for mishandling the Taliban issue, saying it was time to deal with the matter through talks with the groups involved rather than "toeing the American line." He also cautioned that the growing number of IDPs had effectively turned the nation into a conglomerate of "international beggars."
Yet Prime Minister Yousef Raza Gilani remained defiant, pledging to win the war militarily and saying that the government had to also win a second war for the "hearts and minds" of the populace. He also said a group would be set up to deal with the IDPs, headed by an experienced army officer. It seems there is no problem Pakistan's civilian government is uncomfortable throwing the military at.