Nearly three years after the end of Israel's 2006 invasion of Lebanon, the Israeli military is finally providing the United Nations with maps and technical data regarding locations which were attacked with cluster munitions. The data has been requested essentially since the war ended.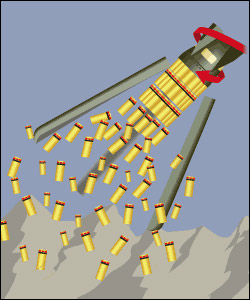 The Israeli barrage of clusterb bombs was launched chiefly in the final 72 hours of the war and many were fired in between the agreement to and implementation of the ceasefire. The UN mine disposal agency estimated that up to a million of the bomblets remained unexploded in the Lebanese countryside after the war, and over 320 people have been killed or injured by the munitions since the ceasefire.
Israel's use of the munitions in populated areas was roundly condemned by human rights groups, as was the United States for expediting the shipment of bombs to Israel so they could be used in the waning hours of the war. International outrage over the toll in Lebanon was perhaps the driving force behind the growing movement to ban the bombs entirely. Only a handful of countries have refused to sign the ban, including Israel and the US.