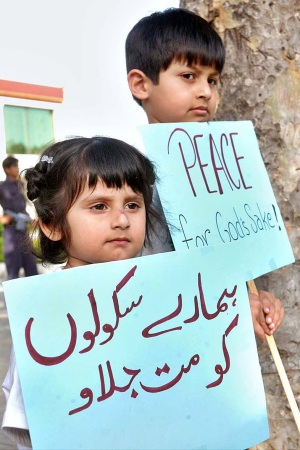 The Pakistani military reported today that it had killed around 200 combatants in the nation's Swat Valley in the past 24 hours. The military has so far not commented on the extent of the civilian toll, but claimed the Tehreek-e Taliban Pakistan (TTP) was causing civilian casualties. Previous reports suggested that the military had caused significant civilian casualties as well.
President Asif Ali Zardari estimated that there were around 3,000 "terrorists" in the valley, and said the government was determined to kill them all. Zardari declared the peace deal failed and said all the parties to it "have to be eliminated."
The government also temporarily lifted its ongoing curfew on the Swat Valley today, and allowed tens of thousands of civilians to flee the war-torn region. While some of those fleeing the captured town of Mingora condemned the TTP, many blamed the Pakistani government for the violence, saying they had caved to pressure from the United States to abandon the peace deal. Over 500,000 civilians have been chased from the region since the government offensive began.