Following clashes in the Bala Baluk district of the Farah Province, US aircraft bombed the area. Afghan officials are now confirming that the attack hit civilian homes, killing women and children, and some officials say the final toll could easily rise into the dozens.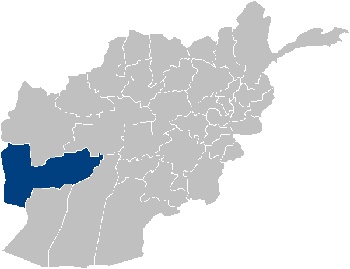 Provincial council member Abdul Basir Khan confirms that villagers brought the mutilated bodies of roughly 30 people killed in the air strike, and that many of them were women and children. It was not immediately clear if all the bodies were civilians or if militants were also killed in the attacks. One former district official who also confirms seeing dozens of bodies said it was too early to tell how many civilians were killed, but predicted that there were "more than 100 civilians dead" in the attacks, and many other civilians badly burned.
It seems likely now that the final civilian toll will at least be the highest so far in 2009, though it remains to be seen if it will ultimately rival August 2008's US airstrike on Herat, which killed at least 90 civilians. Afghan President Hamid Karzai has repeatedly demanded explanations for the killings, but the official US policy is to apologize, insist that "mistakes happen," and move on to the next incident.