Coming just before a planned NATO military exercise, the Pentagon says that the attempted coup in the Republic of Georgia "looks like a fairly isolated incident" and that the rebellion by members of the country's military appears to have come to an end.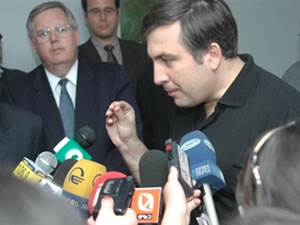 The Georgian Interior Ministry says that it uncovered what it called a "Russian-supported plan to overthrown" the Saakashvili government and said that hundreds of rebel soldiers had surrendered in the bloodless, failed uprising. Russia was unsurprised by the allegations, saying that "Georgia is constantly accusing us of something," but denying any role in the unrest.
Tensions between Russia and Georgia have remained high since the brief August war, and Saakashvili's government has been torn by growing opposition rallies calling for his ouster. Chief among the objections to the Georgian president is his role in starting the war, which destroyed much of Georgia's military and led Russia to recognize the independence of the separatist enclaves of South Ossetia and Abkhazia.