Following the end of the nearly week-long hostage standoff off the coast of Somalia (which ended when US troops shot and killed three pirates in a lifeboat), there is growing talk both inside and outside the military of how to launch further attacks against the piracy infrastructure along the coast and whether this will include ground attacks in Somalia itself.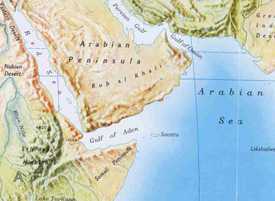 At the moment, the military is mulling attacks against the coastal towns used as a base of operations for Somalia's pirates, in addition to drawing up proposals to provide American aid to prop up the faltering Somali government. So far, defense officials insist they aren't seriously considering anything on the scale of the 1992 invasion of Somalia, which ended in failure. Whichever operations are taken will presumably be coordinated through AFRICOM, America's recently-created operational command for Africa.
But after a week in the news, support for US intervention in the nation seems to be growing. Senator Russ Feingold (D – WI) slammed the Bush Administration for having "neglected" Somalia (the Bush Administration did support the Ethiopian invasion of Somalia) and has urged President Obama to "commit to a comprehensive strategy" aimed at propping up the government. Former American Ambassador to the United Nations John Bolton called for both air strikes and a full-fledged ground invasion of Somalia.
Yet support for American troops without Somalia is likely to be tepid, at best. Rep. Donald Payne (D – NJ) made a visit to Somalia where he defended the killings – Somali insurgents fired mortars at him. After its support for a particularly bloody Ethiopian occupation, Somalis seems unlikely to take America's new-found interest with anything but trepidation, and military intervention would likely be met with fierce opposition from Somalia's insurgencies.