North Korean leader Kim Jong Un's suggestion of direct talks with South Korea has been quickly and eagerly endorsed by South Korea's Moon government, with officials saying it is a "groundbreaking" opportunity to establish direct talks for the first time in years.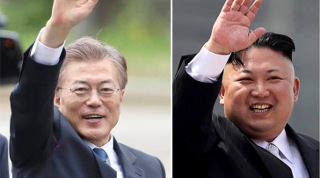 South Korea's Unification Minister Cho Myoung-gyon proposed that the first such talks be held next week, on January 9, in the demilitarized zone. This would focus primarily on confidence building and assuring further talks, but would likely also include talk of North Korea's participation in the Winter Olympics, which start in February.
The ultimate goal would be to get more or less permanent diplomatic dialogue going between the two nations, and to greatly reduce military tensions which had surged throughout 2017. South Korean officials say they're consulting with the US on the matter.
Which may not be a good sign, as the US position on the talks is unclear at best. President Trump suggested he was undecided if such talks were good or bad, and the State Department, while conceding that two nations could talk of they wanted to, similarly confirmed the US hadn't decided if this was desirable. Ambassador Nikki Haley was critical of the talks, insisting that US preconditions be accepted.
Last 5 posts by Jason Ditz