Desperate efforts to try to keep the the public protests in Iran from getting any bigger appear to have run into a major problem Sunday night, when violence surged, leaving at least 10 more people dead, with another nine Monday, bringing the toll from nearly a week of demonstrations to 21 killed, including one policeman.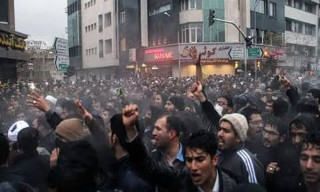 The protests began last week in Iran as economic demonstrations, complaining about high inflation and unemployment rates. Amid attempts to crack down, these rallies quickly became highly political, with calls for Ayatollah Ali Khamenei to leave office.
Things seemed to be quieting down earlier in the weekend, but came to a head Sunday night, with claims of armed groups of protesters attacking security forces and leading to deadly skirmishes.
This potentially makes things far more dangerous for Iran, as the rising death toll will almost certainly add to the unrest across the nation. Indeed, protests seem to be picking up pace across the country on Monday.
Iran's moderates have been urging caution in reaction to the protests, noting how quickly the 2009 Green rallies grew in the face of violence, while the hardliners see any sign of unrest as proof of a foreign plot, and seek to double down on the crackdown.
Last 5 posts by Jason Ditz