As war crimes mount in blockaded Yemen, US officials continue to praise the Saudi officials leading the war and the blockade, which the US has been participating in, cheering their promise to allow Yemen's Sanaa Airport to reopen, despite the fact that the Saudis bombed the airport last week and it's not likely to be operable anyhow.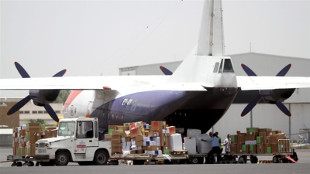 Saudi promises to allow aid into Hodeidah port as of noon Thursday were also cheered by the US despite aid ships having since confirmed that the blockading ships aren't allowing them into the port.
Still, US officials seem to have acknowledged that next to nothing was actually accomplished so far, and the White House issued a statement encouraging "further steps" by the Saudi-led coalition, which again, the US is part of.
Under ordinary conditions, Yemen imports over 90% of its food from overseas. During the war, the blockade has severely limited food access, leading to malnutrition, and a lack of medicine that has killed thousands. With food running out in northern Yemen, aid groups are warning a massive famine is imminent if the blockade remains in place.