During a Friday news conference in Ankara, Turkish Foreign Minister Mevlut Cavusoglu said that President Trump had promised repeatedly in talks with President Recep Tayyip Erdogan that the US would not provide any weapons to the Kurdish YPG.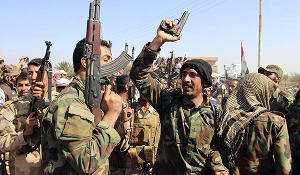 Trump said initially he had "issued instructions" that weapons shouldn't be given to the Kurdish YPG, and after Erdogan expressed concern that they were still doing so, Trump had told him again he had 'given very clear instructions" to stop.
These assurances were never made public, and the US has been very public about arming the Kurds, albeit with assurances that they'd eventually take the weapons back when ISIS was defeated, something many were doubting at the time.
Turkey has been deeply critical of US support for the Kurds, and very public about their own intentions to eventually fight the Kurds over northern Syria. The fact that they're fighting Kurds awash in US-provided arms is a major inconvenience, but despite Cavusoglu's claims today, it almost certainly was not an unexpected one.