Though ISIS still controls countless towns and villages in the deserts of eastern Syria, Syrian and Iraqi forces are both scrambling toward what they are describing as the "last stronghold" of ISIS in the area.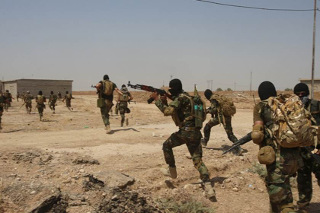 That stronghold is the main border crossing between Iraq and Syria, the city of Abu Kamal in Syria, and al-Qaim within Iraq. While this isn't a huge city, it is a strategically valuable holding for ISIS, and one of the last ones.
Syrian forces and US-backed Kurds have both been pushing back ISIS along the Euphrates River, and getting ever closer to the crossing. Iraq's Air Force is dropping leaflets in al-Qaim, warning civilians that they need to take refuge in their homes and raise white flags, or else they'll be assumed to be in league with ISIS.
Of course, the fall of this border crossing, even both sides of it, is far from "the end of ISIS" that has been heralded for months. Even when their territory is gone, ISIS will remain a substantial insurgency with reach across the world.
Last 5 posts by Jason Ditz