With Spanish Prime Minister Mariano Rajoy pushing for the Senate to approve the direct takeover of Catalonia and the total revocation of the region's historic autonomy, Catalan officials say they intend to contest the effort in court.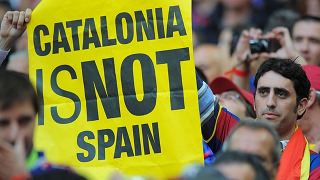 The takeover is based on the Spanish Constitution's Article 155, which allows the national government to take over regional government in certain emergency situations. This has never before been attempted.
That means there is no legal precedent for its use, and the article is so vague about when it's actually intended to be used, the Catalans have obvious avenues for a legal challenge that insists this isn't that situation.
Spain's government will be arguing that the referendum supporting independence, which the court already forbade, proves Catalonia's "constitutional order" needs to be restored by force. Catalan officials will argue that peaceful demonstrations calling for independence don't rise to the level of an emergency.
Last 5 posts by Jason Ditz