Two days after Israeli warplanes carried out attacks against Syrian air defenses, Israeli tanks have attacked and destroyed a Syrian army post in the nation's south, citing an errant mortar that landed in Israeli-occupied Golan Heights.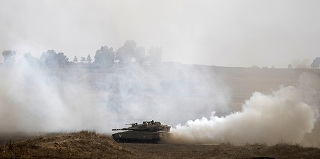 It's not clear who fired the mortar, and it didn't hit anything. The Israeli Army, however, argued it was a "violation" of Israeli sovereignty in the occupied territory, and that no matter who fired it, they consider the Syrian government to blame.
Israel has favored a policy of holding a single faction responsible no matter who fires shells or rockets, as it allows them to use any such incidents as a pretext to carry out major attacks into foreign territory, nominally as "retaliation."
There has yet to be any report of the casualties from the destruction of the Syrian post, while Israel says there were no casualties nor any property damage within Israeli territory as a result of the incident.