Ongoing Russian airstrikes against al-Qaeda's Nusra Front have been increasingly damaging to the group in recent weeks. Russian state TV is now reporting on a strike that killed 49 Nusra fighters, including seven "field commanders" in northern Syria's Idlib Province.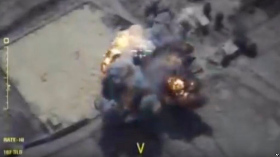 Details are still emerging on the strike, but Russian Defense Ministry officials say that they also critically injured Nusra leader Abu Mohamad al-Golani in a Wednesday strike, and that he is now in a coma.
There's been no confirmation of Golani's fate, but if true this would be a major blow to Nusra, one of the driving rebel forces since early in the Syrian conflict. At this point, efforts are increasingly focused on separating Nusra from the rest of the rebellion to allow for peace talks.
Nusra won't hear of peace talks, and has even attacked other rebel factions they've accused of participating in the talks in the past. Recent losses Nusra has sustained in Russian strikes and failed offensives against Syrian military targets have left them increasingly weak and unable to threaten rivals.
Last 5 posts by Jason Ditz