Amid expectations that President Trump is going to decertify the P5+1 nuclear deal with Iran, refusing to the admit to Congress that Iran is complying, US Strategic Command chief Gen. John Hyten has affirmed that Iran is fully complying with the terms of the deal.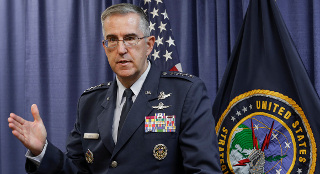 Gen. Hyten was speaking about the deal at an event for the Hudson Institute, saying Iran's compliance was not a questionable fact, and insisting that US "concerns" regarding Iran are separate from the nuclear deal.
Hyten said the US and its allies had concerns about Iran developing and testing conventional ballistic missiles. Admitting that this is not a violation of the nuclear deal is significant, as Trump Administration officials have often linked the two issues.
The one thing that does link the two issues is that US hawks have often sought to reimpose sanctions they were obliged to lift from Iran under the nuclear deal, with the missile tests serving as a pretext. Such sanctions are seen as violating the nuclear deal, though the administration is likely planning to do that anyhow at this point.