According to the Syrian Observatory for Human Rights, Russian warplanes carried out a series of attacks on ferries southeast of the Syrian city of Deir Ezzor, sinking several of the boats and killing a number of civilians who were on board.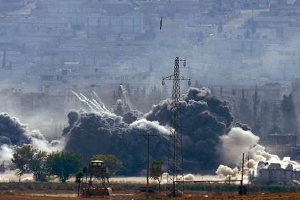 More than 40 ferries were targeted in the strikes, which killed at least 34 civilians. Many of the bodies were recovered from the Euphrates River. There was no indication why the ferries were targeted.
This is ISIS-held territory, however, and it's been pretty common for all factions involved to fire indiscriminately at vehicles in ISIS territory, especially those fleeing from the site of a conflict. There is no sign, however, that any ISIS were present at the strike.
Syrian troops are contesting control over the city of Deir Ezzor, which ISIS held most of up until late last week. Advancing Syrian troops relieved the defensive forces defending the last government-held part of the city, and are trying to carve out a supply line back west.
Last 5 posts by Jason Ditz