The focus for the Syrian Kurdish YPG forces in recent weeks has been on the offensive against the ISIS capital of Raqqa. Before that, however, there were reports of intermittent clashes with Turkish-backed rebels in Aleppo Province. Those reports never got resolved, but stopped being reported for awhile.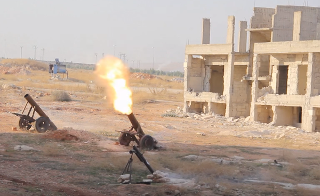 The most recent reports out of Aleppo, however, suggests they never really stopped, and that the US-backed Kurds are trading fire with the Turkey-backed rebels on the pretty much daily basis, and have been for weeks on end.
Neither side really has the forces to readily overrun the other,but that hasn't stopped artillery shells flying back and forth across the frontier, with villages close to the front lines pretty much uninhabitable because of the shooting.
The US has desperately tried to prevent fighting between the two sides further east, positioning troops to block any advance against the heart of Kurdish territory. In this area, however, US forces aren't present, and the fighting continues at a low boil with no end in sight.
Last 5 posts by Jason Ditz