UN aid chief Stephen O'Brien issued statements Friday slamming the Saudi-led coalition attacking Yemen, along with the Saudi-backed government in south Yemen, saying they are "unilaterally denying and excessively delaying" entry of humanitarian aid into northern Yemen.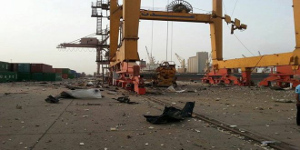 This has been a recurring problem throughout the war, as the Saudi coalition's first act was to impose a naval blockade. Since then, they've tried to funnel aid shipments overwhelmingly to Aden, the de facto capital of their allies, while attacking and blockading Hodeidah, the last northern port.
O'Brien insisted that it was "simply wrong" for the coalition to insist that cargo go through Aden instead of Hodeidah, urging the countries to endorse a UN mechanism for allowing shipments into Hodeidah.
The port is badly damaged, and donated cranes to replace those destroyed in prior Saudi attacks have been stuck in Dubai, lacking Saudi permission to be installed. The use of Hodeidah for food and medical aid would be particularly vital because of the cholera epidemic in the region.
The Saudis have argued that Aden is simply a safer port, and a more efficient one for aid shipments, mostly coming from Djibouti. While this is the case in theory, in practice aid shipments into south Yemen never get into the Shi'ite north, meaning that the regions most impacted by the blockade aren't relieved by the Aden shipments at all.