A suicide bomber on a bike attacked a vegetable market in Lahore, Pakistan today, killing at least 26 people and wounding 54 others. The attack apparently targeted police in the area, and officials say nine police are among the slain.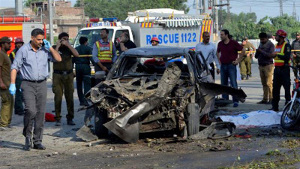 The Pakistani Taliban claimed credit for the attack, which involved a large bomb near a police checkpoint. The size of the explosion shattered windows across the area, and Pakistan sent the military into the area to try to secure the site.
This is the latest in a series of attacks against Lahore in recent months, and officials say this was a particular shock because this is the most secure neighborhood in the city. The bomb detonated just 100 meters from the provincial Chief Minister Shahbaz Sharif.
More police than usual were in the market today, dealing with illegal construction by people trying to expand their stalls. The bombing was at a checkpoint near where the most police were.