Heavy fighting was reported in and around the village of Ayn Daqna today, in the Kurdish YPG's Afrin District territory in the Aleppo Province of Syria. The fighting was apparently precipitated by Turkish-backed rebel forces trying to advance into the village, and toward the nearby Menagh Air Base.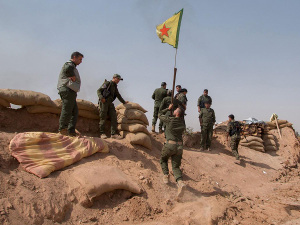 The rebels were supported by artillery fire from the Turkish military, which has been backing their fight against both ISIS, and ultimately against the Kurds when they ran out of border areas with ISIS in Aleppo Province. Despite the fighting, it does not appear much territory changed hands.
Rather, Kurdish officials bragged about having not only beaten back the "Turkey's mercenaries" so far, but claimed to have captured multiple rebels. Turkey has been very clear that no Kurds are allowed west of the Euphrates River, but so far proven unable to expel them from Afrin.
The US has been trying to keep the Kurdish YPG and Turkey out of direct conflicts further east around the Euphrates River, but have not had much luck keeping the fighting from raging in Afrin, which is a valuable border area coveted by the Turkey-backed rebels, but where Kurdish forces have been entrenched.
Last 5 posts by Jason Ditz