Over a year after a failed coup d'etat, Turkey's aggressive purge of anyone whose loyalties are even remotely suspect continues apace, with over 7,500 more people, mostly soldiers and police, fired from their jobs as part of the ongoing "state of emergency."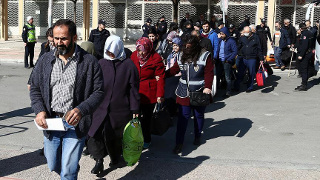 The Erdogan government is pushing for another 3-month extension of the emergency situation, which has already been used as a pretext for arresting some 50,000 "coup plotters" and firing over 100,000 people nationwide on suspicion of being in league with the Gulenist movement.
The purges have been criticized internationally for casting a wide net, leading to incidents where Turkey has fired literally every university dean in the country, and dramatically revamped the personnel of entire industries, focusing on education, security, and media outlets.
Erdogan has accused US-based cleric Fethullah Gulen of being behind the coup, though Gulen has denied this charge. The US has so far refused to extradite him to Turkey over the allegation, citing a lack of evidence to support the allegations.
Last 5 posts by Jason Ditz