US and Russian officials both heralded the official start of the new ceasefire in southern Syria, which they agreed upon Friday, with National Security Adviser H.R. McMaster saying the deal is an important "anti-terrorism" move, and Russian President Vladimir Putin saying it signals a more pragmatic US position on Syria.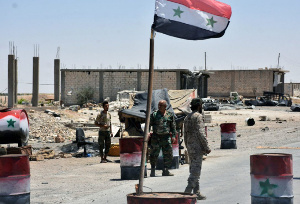 From the US position, the goal is to prevent further defeats of rebels in southern Syria, and to prevent the Syrian government from connecting a land route to neighboring Iraq, a policy seen as particularly important to both Israel and Jordan.
With Syria having a narrow de facto link to Iraq already, however, the Russian government sees the move primarily as aimed at preventing the US from carrying out any more attacks against Syrian government forces and their allies, something the US has almost exclusively done in the new ceasefire zone.
Early results are promising, with the Syrian Observatory for Human Rights saying there has been "no significant fighting" since the ceasefire went into effect at noon local time. Rebel officials also concurred that the deal is holding.
Last 5 posts by Jason Ditz