Following up on the ambiguous report of a Sunday morning airstrike against al-Shabaab forces inside Somalia, the Pentagon has issued a statement today confirming that they conducted a second airstrike, also targeting al-Shabaab, on Tuesday night.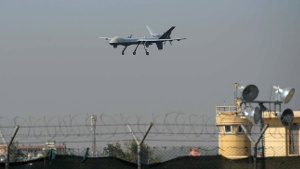 The attack was some 300 miles southwest of the Somali capital of Mogadishu, and the Pentagon claimed that "collective self-defense" entitled them to attack the target, saying it was done with full coordination with America's "Somali partners."
As with the Sunday strike, the Pentagon is only confirming that al-Shabaab was the intended target, not that the strikes actually hit al-Shabaab, or anyone else. Officials once again said they'd offer future updates on who was killed in the attacks if appropriate.
On the other hand, they're not offering many of the details they clearly already have about the incident, claiming "operational security," and saying they will never identify the units involved in the attacks for the sake of such security.