The latest round of sanctions against Russia, including new rounds of sanctions against Russia's metals industry and investors in their energy market, as well as blocking the president from lifting sanctions in the future,was passed as part of an Iran sanctions bill in the Senate, and is now set for discussion in the House, where President Trump is reportedly lobbying heavily to see it "watered down" in some ways, with a potential veto threat looming.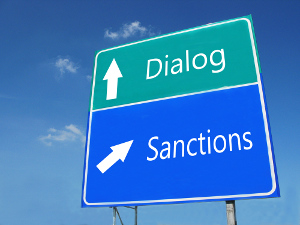 The main complaint, according to administration officials, is the attempt to lock in sanctions on Russia and prevent presidents from being able to unilaterally offer sanctions relief without getting Congressional authorization, which they see as hindering the president's ability to negotiate.
A bigger issue, however, might be the threats on investors in Russia's energy industry, which has already fueled angry backlashes from multiple EU countries, and explicit threats to retaliatory sanctions from Germany if the sanctions end up hitting German companies involved in building Russian gas pipelines to Europe.
A Trump veto would be unlikely to survive an override vote, but the White House appears to be gambling that House Republicans will offer some concessions to prevent it getting that far, allowing him to save face. Rep. Kevin Brady (R – TX), the Ways and Means Committee chairman, has stopped the advance of the sanctions bill entirely with a procedural objection at this point, which is giving the administration more time to negotiate potential changes.
Analysts are noting that Trump's position largely mirrors that of President Obama, who also objected to the idea of Congress curtailing his ability to lift sanctions, though in his case it was with respect to Iran, not Russia. The Trump Administration has expressed opposition to lifting the sanctions at any rate in recent months, but appears loathe to accept Congressional oversight going forward.
Last 5 posts by Jason Ditz