Saudi Arabia's King Salman today made a surprise move to reorder the royal line of succession in the country, offering a series of royal decrees that removed Crown Prince Mohammed bin Nayef from his position as successor and replacing him with the king's son, current Defense Minister Mohammed bin Salman.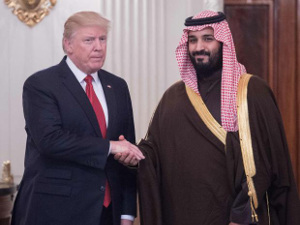 The move wasn't totally unanticipated as a possibility, but has far-reaching consequences. The US spent many years courting Mohammed bin Nayef as their preferred successor after the end of the current generation of royals. He had, however, been reported intermittently to be in very poor health.
The new Crown Prince Mohammed bin Salman, by contrast, is just 31 years old, and with his father having been in failing health for awhile now, could rapidly find himself thrust into the role of king. Mohammed bin Salman has been described as particularly "reckless" in the past, both in economic and military policy.
Most of the Saudi Royal Family, of course, officially supports the king's policies at any given time, so it's not always clear where the king's policies end and others in the family begin. Bin Salman, however, has been directly behind one failure after the next in his brief time in positions of influence, flubbing the position of economic czar with a series of ill-advised policies during the collapse of the price of oil, pushing for the execution of Shi'ite cleric Nimr al-Nimr as a "terrorist" for supporting protests among the nation's Shi'ite minority, and as defense minister leading the push for the disastrous Yemen War.
The US has been courting bin Salman for some time now, recognizing that bin Nayef would likely be sidelined at some point, but is also concerned at what would happen if he inherits too soon and his reckless streak gets the better of him. Given bin Salman's severely hawkish bent, his appointment seems to ensure the more directly warlike Saudi kingdom of recent years, constantly looking to antagonize Iran, Qatar, and anyone else they don't like, is here to stay.
Last 5 posts by Jason Ditz