An updated version of this story is here
The Saudi Information Ministry has reported that their navy has captured a boat near the Marjan offshore field, along with three members of Iran's Revolutionary Guard Corps, saying they were going to carry out a "terrorist act" in Saudi waters.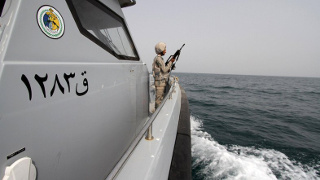 The Information Ministry went on to claim that there had actually been three Iranian boats, and that they sent the navy out to intercept all of them, but the other two got away. They said the boat they did capture was carrying explosives, but offered no details.
It is unclear if the Friday incident was related to another incident, in which the Saudi navy attacked a pair of Iranian fishing boats that strayed across the maritime border amid high waves. One fisherman was reported killed. These might be the same two "escaped boats" the Saudis referred to.
Saudi Arabia has been eager to clash with Iran over regional issues, and massive US arms purchases made recently are done at least somewhat with an eye toward an outright war with Iran. Whether this incident, surrounding a single captured boat, represents the start of such an escalation, however, remains to be seen.