Col. Gen. Sergei Surovkin, the commander of Russian forces in Syria, has accused the US and its allies in the Kurdish YPG of having "colluded" with ISIS in recent deals on the evacuation of ISIS-held villages near Raqqa, allowing ISIS forces a corridor to flee south from the area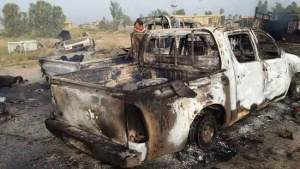 According to the commander, the deals were reached and sent ISIS forces out of the area around Raqqa, which the Kurds are in the process of invading, and toward Syrian government-held territory around Palmyra, which ISIS has been contesting in growing numbers.
He accused the deal of being a way for the US to use ISIS to attack Syrian government targets further south, and to slow the Syrian military's advance toward the Iraq border, but that Russian warplanes had attacked several ISIS convoys heading in the direction of the Syrian forces, out of nominally "surrounded" areas.
The US has not indicated that they made any evacuation deals with ISIS over any villages, and while doing so would not necessarily be proof of "collusion," it would not be in keeping with the stated US policy in the ISIS war, which is to exterminate all ISIS fighters and ensure that there are "no survivors" of the conflict.