Tensions in the area around the US-backed rebel base at al-Tanf continues to grow today, with Pentagon officials reporting that a US warplane had shot down what they described as a "pro-regime drone," that they accused of having attacked US coalition troops in the area.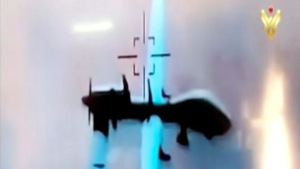 No US or coalition troops were apparently hit in the shooting, and nothing was damaged, though US officials declined to identify the drone, or whose it actually was. Reports suggest it was a drone about the size of a US Predator drone. Hezbollah issued video that was believed to be from the drone.
The exact context of the incident is also not totally clear, as US-backed rebels suggested the US was in the process of attacking Shi'ite militias in the area at the time, and that they had "wiped out" an entire militia convoy that was heading to a base near Tanf.
This is raising questions as to whether the drone strike was an attempt to retaliate against the US attacks. Even if it wasn't, both sides are attacking one another with alarming regularity in the area around Tanf, and raising concerns that the US and Syria are getting closer to being directly at war with one another.